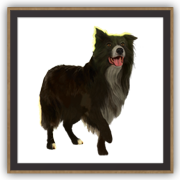 Information from the Official Site
Mickey is one of many leash dogs that joined Lucky.
Description
Edit
He is nurturing and watchful, and because he is a border collie, his special skills are herding. He is a looyal friend to longpaws and leashed-dogs, and he's a quick learner. He volunteered to be the one carrying all the memories of longpaws, as he quotes, "I can't give up my faith in the longpaws. I understand that we can't rely on the longpaws to help us anymore. But one of us has to remember. One of us has to carry the memories for the rest of the Pack. I'll do it."
Ad blocker interference detected!
Wikia is a free-to-use site that makes money from advertising. We have a modified experience for viewers using ad blockers

Wikia is not accessible if you've made further modifications. Remove the custom ad blocker rule(s) and the page will load as expected.