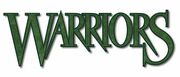 Warriors is the mege-best seller by Erin Hunter. The books are about four (later five) clans with cats. There are four series in the books.
List of Books: List of Books that list a list of books
Edit
Warriors:

Into the Wild: Book 1

Fire and Ice : Book 2

Forest of Secrets: Book 3

Rising Storm: Book 4

A Dangerous Path: Book 5

The Darkest Hour
Ad blocker interference detected!
Wikia is a free-to-use site that makes money from advertising. We have a modified experience for viewers using ad blockers

Wikia is not accessible if you've made further modifications. Remove the custom ad blocker rule(s) and the page will load as expected.